Why Yipikiyay?
For anyone with even a passing knowledge of pop culture you must get the reference, but the story is a little more nuanced as to why we chose Yipikiyay as our company name. Whilst it's not a hugely interesting story, it's a sentimental one for us.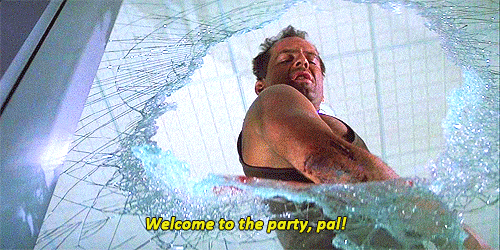 Matt, our Technical Director, and Rob, our Production Director, both worked together for about 6 years at a software company in Cheltenham. The two became friends and bonded over a shared love of gaming, coffee and all things tech. The years passed and they worked together on some very cool projects and building an amazing and close knit team of talented developers and QA staff, with a similar love for games, coffee and tech.
Sadly though that time had to end as the company shuttered its office. But the passion for building fun interactive experiences and games was not diminished. So as Christmas time approached and we reached the final week of the team working together we arranged a final hurrah gathering the team in front of the Greatest Christmas Film Ever. And that's a fact. No arguments. Done.
This is how we would likley react to seeing the building that centred the film:
And so that line is a moment in the film that brings joy to the heart, where the hero stand up against the evil terrorist leader Hans Grüber  - played by the late, great and genuinely one of the best actors of all time Sir Alan Rickman - and utters the imortal line:
Yippee-ki-yay, Motherf*cker!
Matt and Rob both wanted to reference the film in some way as an homage to their history working together to this point, as well as a statement that who we want to be and what we build is as kickass as the film itself. Discussing company names later on there was no contest. We would be Yipikiyay. It would stand for our shared love of pop culture, be a reminder to those happy days as a plucky development team and all the awesome projects we'll be doing going forwards.

Until next time. Yipikiyay!
by Rob Mason.